Contenders for September 28, 2016
Saga #38> "THE WAR FOR PHANG," Part Two. When your babysitter's a ghost, death is never very far away. (S) Brian K. Vaughn (A) Fiona Staples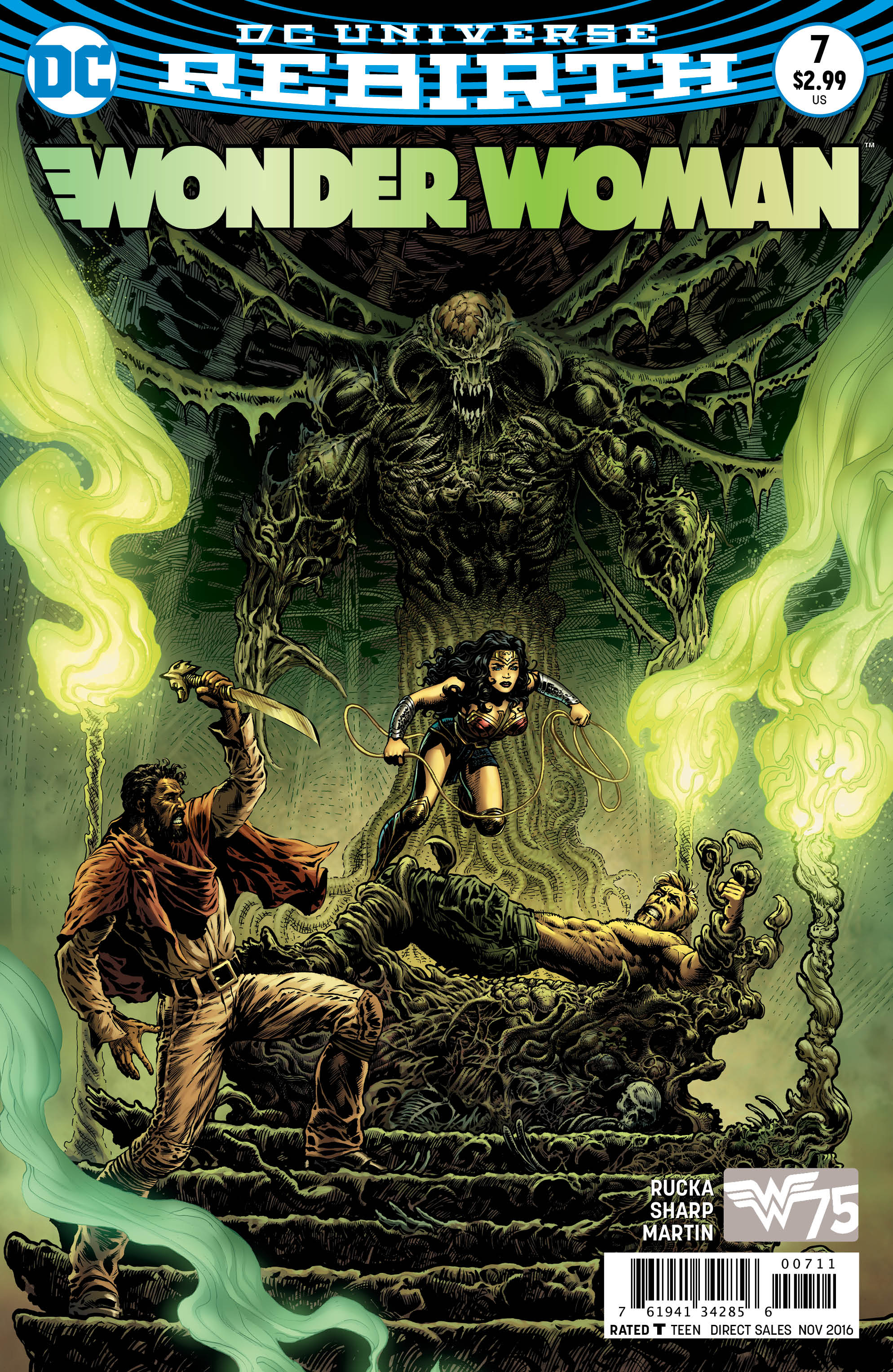 Wonder Woman #7> "THE LIES" part 4! One god down-how many more to go? Diana takes another step closer to the truth, and Steve Trevor confronts his past! (S) Greg Rucka (A) Liam Sharp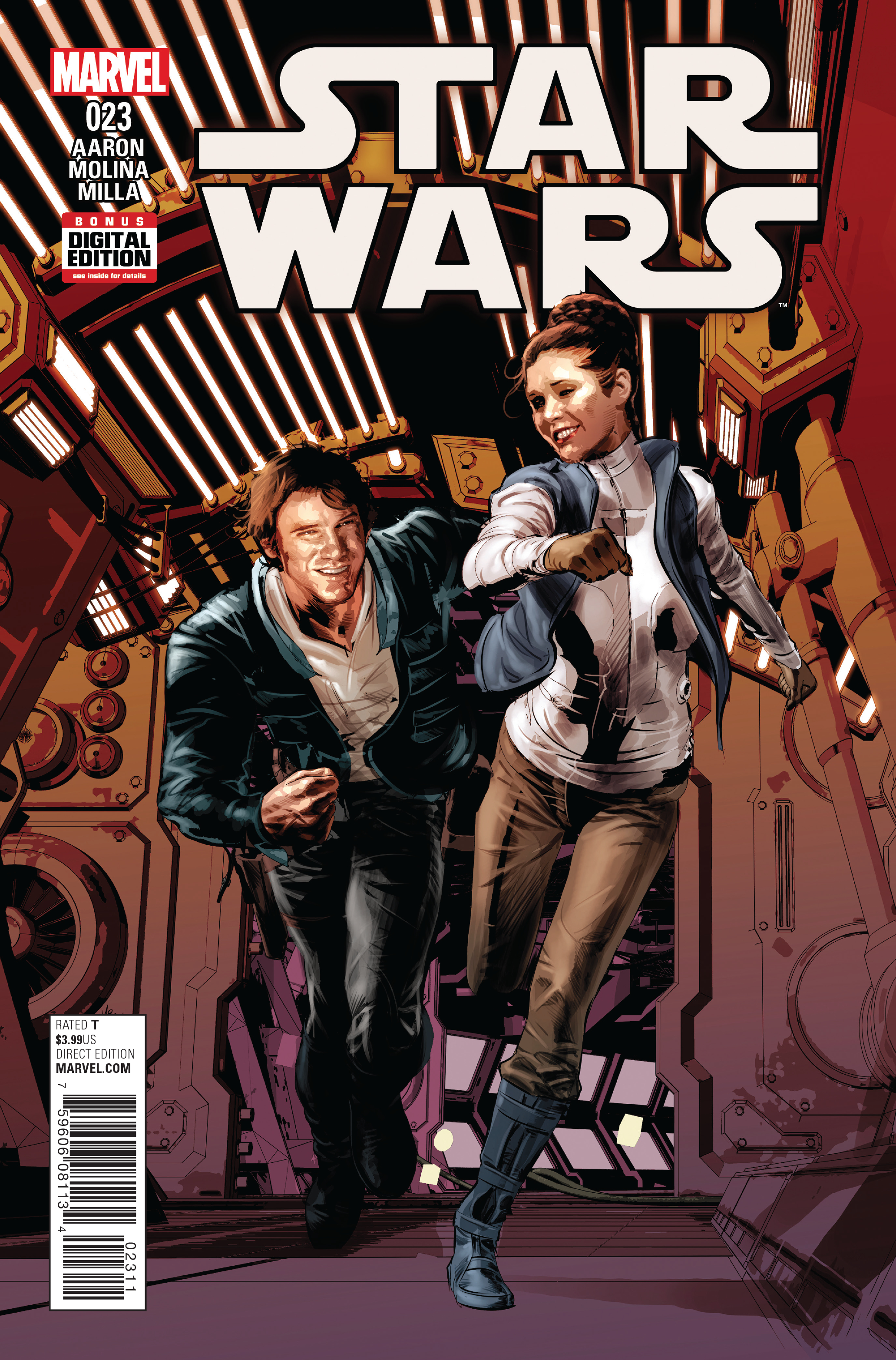 Star Wars #23> The rebels have pulled off the impossible…they've stolen a Star Destroyer. But why? To what end? Can they hold her together? And who's in charge of this madness, anyway – Han or Leia? (S) Jason Aaron (A) Jorge Molian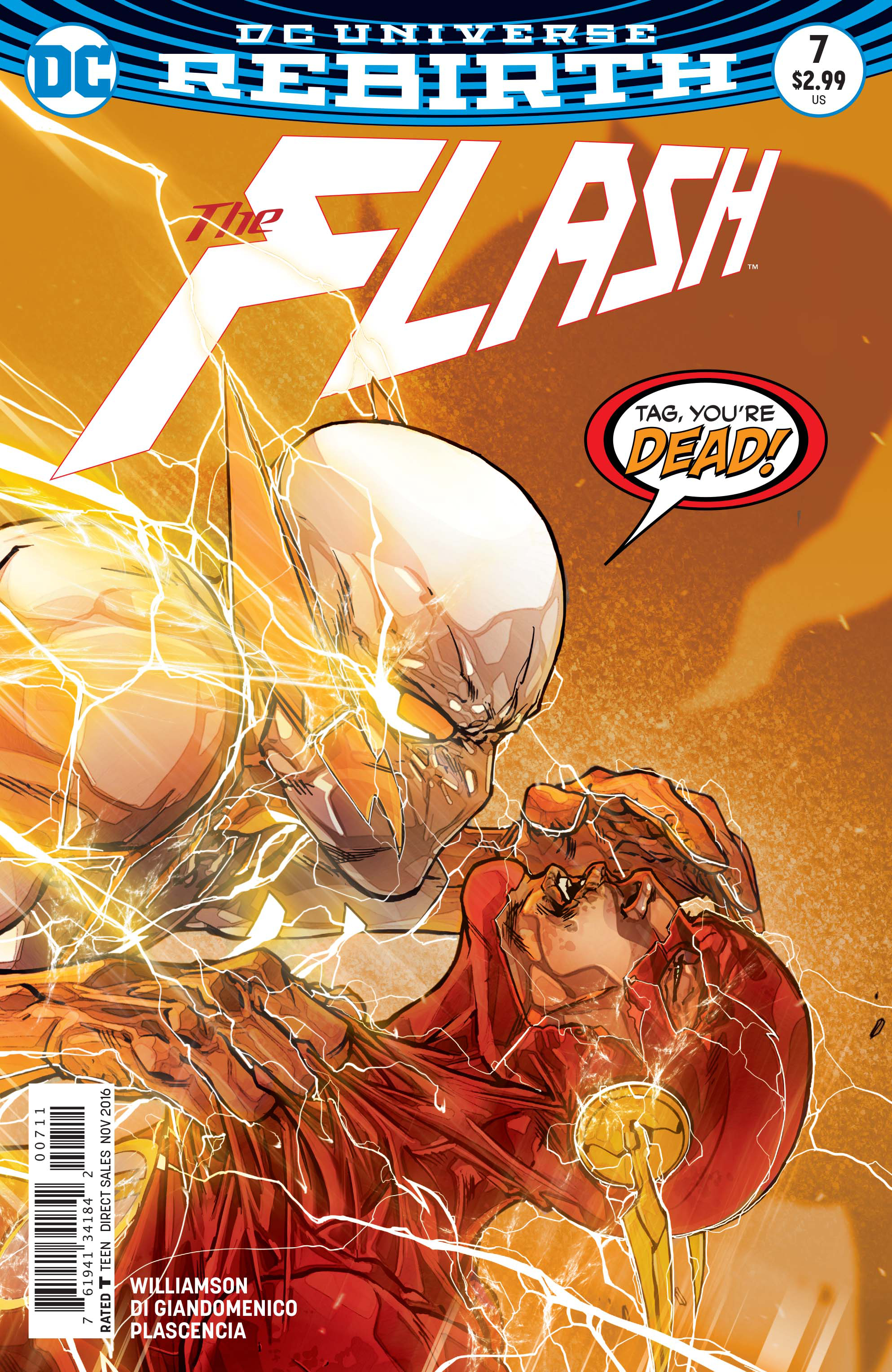 Flash #7> "LIGHTNING STRIKES TWICE" part 7! Still reeling from Godspeed's devastating attack, the beleaguered Flash realizes that to defeat this menacing new foe he must take away the Speed Force power from Central City's new citizen speedsters. There's only one problem: they don't want to give it back. (S) Joshua Williamson (A) Carmine Di Giandomenico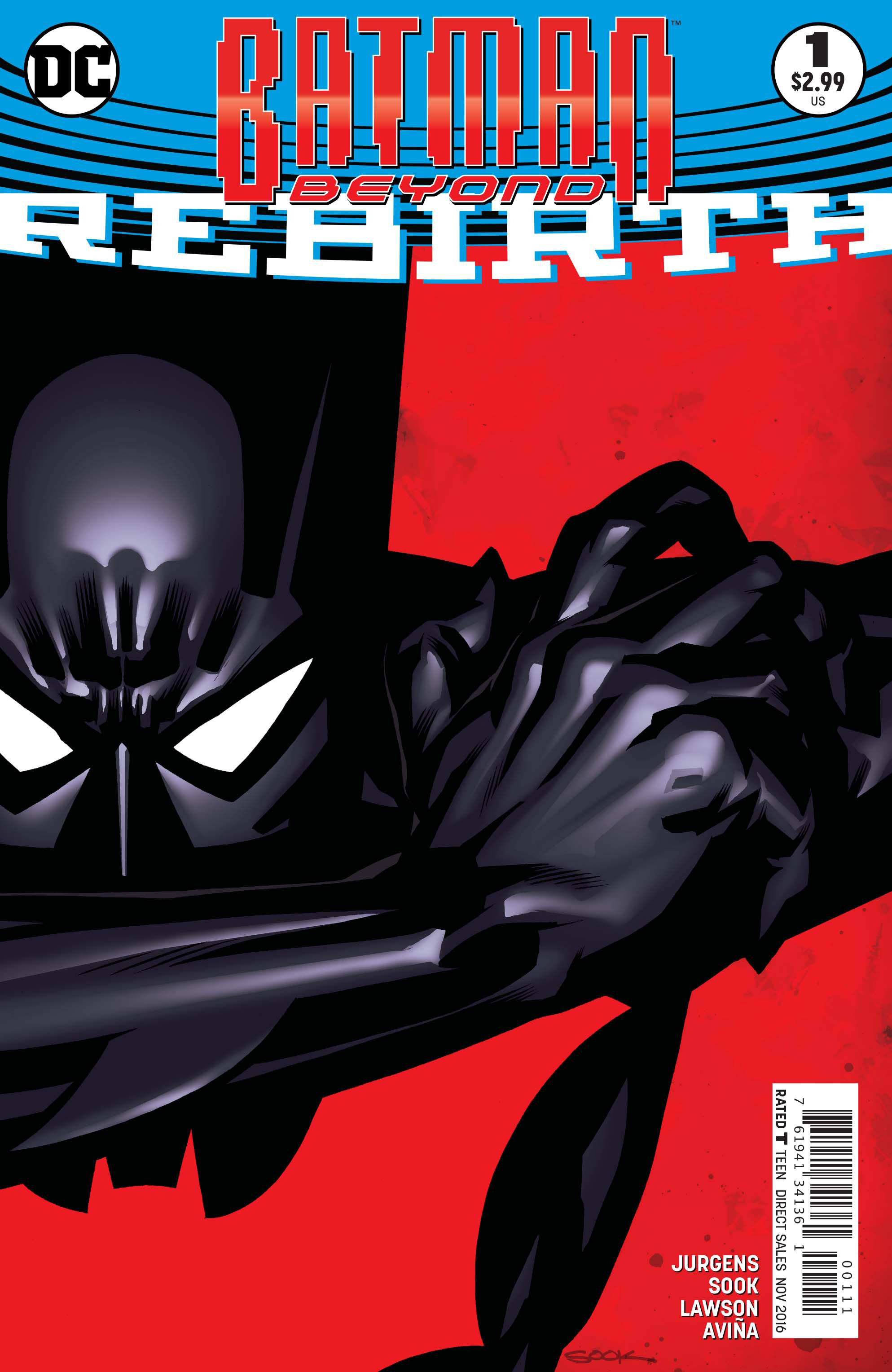 Batman Beyond Rebirth #1> Six months have passed since the events of BATMAN BEYOND #16. While areas of destruction remain in the outside world, Gotham City has made great strides toward reclaiming its bright future. But new threats arise and old adversaries may be coming back. And the question still remains: whatever happened to Bruce Wayne? (S) Dan Jurgens (A) Ryan Sook
Smurfs Take> I have never thought of Batman Beyond as more than a DC what if. Once they started to integrate the DC Universe a little bit more to the story I found compelled to pick it up. Just to see what the final fate of some heroes, a modified and better take on the Legionnaires.
Smurfs Pick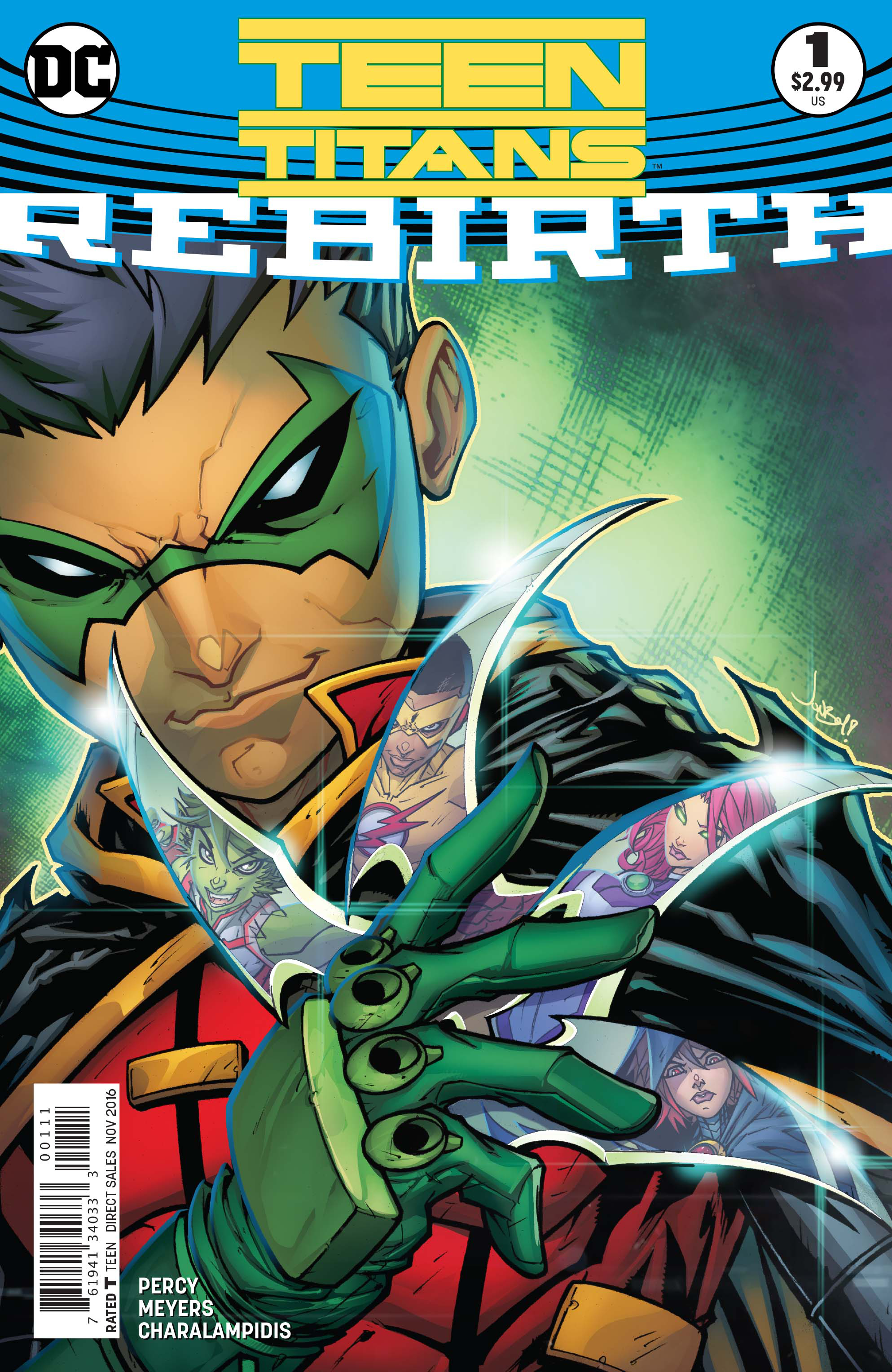 Teen Titans Rebirth #1> The Teen Titans are farther apart than ever before…until Damian Wayne recruits Starfire, Raven, Beast Boy and the new Kid Flash to join him in a fight against his own grandfather, Ra's al Ghul! But true leadership is more than just calling the shots-is Robin really up to the task? Or will the Teen Titans dismiss this diminutive dictator? (S) Ben (A) Jonboy Meyers
Smurfs Take> I don't know if I like Damian better alive or dead…guess I am going to find out.
Trade Paperback of the Week Bloom County Episode XI A New Hope TP> In 2015, Pulitzer Prize-winning cartoonist Berkeley Breathed began (without warning!) producing all-new Bloom County strips-for the first time in more than 25 years! Breathed released the new Bloom County strips exclusively through his Facebook page, to the cheers of devoted and delighted fans everywhere. These brand new strips have never before been available in print-until now! All the wit, charm, and biting satire that are trademarks of Bloom County and Berkeley Breathed are clearly on display and evident in this handsome new volume. Featuring all your favorite characters: Opus, Milo, Bill the Cat, Steve Dallas, Cutter John, and many more. Bloom County has come home… and it's about time! (S) Berkeley Breathed (A) Berkeley Breathed
Smurfs Take> The world is perfect once more, all wrongs have been set right. The return of Bloom County!
Action Figure of the Week
DC Icons Firestorm Justice League AF> Three more of DC's most recognizable characters join the Icons line of action figures from DC Collectibles! The Joker, Firestorm and Green Lantern John Stewart are pulled from the DC Universe's most memorable events and stories! Each figure comes with multiple accessories! 14. THE JOKER: DEATH IN THE FAMILY – 6″ 15. GREEN LANTERN JOHN STEWART: MOSAIC – 6″ 16. FIRESTORM: JUSTICE LEAGUE – 6″
Video of the Week
Warcraft> The world of Azeroth, which is inhabited by humans, faces all-out war against the deadly race of orcs. The fearsome invaders are seeking a new home because their world is dying. The orcs are able to enter Azeroth through the Dark Portal, which is an opening between the orc's world and Azeroth. The consequences of the impending war between the two species could mean destruction for the human race and certain extinction for the orcs.