Contenders for November 30, 2016
Seven to Eternity #3> The last Mosak charge headlong into battle against the Mud King and his terrifying guardian, the Piper. Will Adam join the fi ght, even though the Mosak were the cause of his family's downfall? (S) Rick Remender (A) Jerome Opena
Smurfs Take> LOVE LOVE LOVE THIS BOOK!
Saga #40> "THE WAR FOR PHANG," Part Four It's all fun and games until… (S) Brian K Vaughan (A) Fiona Staples
Shutter #24> "SO FAR BEYOND," Part Two Huckleberry's hard road of survival is fi nally revealed, setting up the series' biggest revelations yet in next month's landmark twenty-fifth issue. (S) Joe Keatinge (A) Leila DelDuca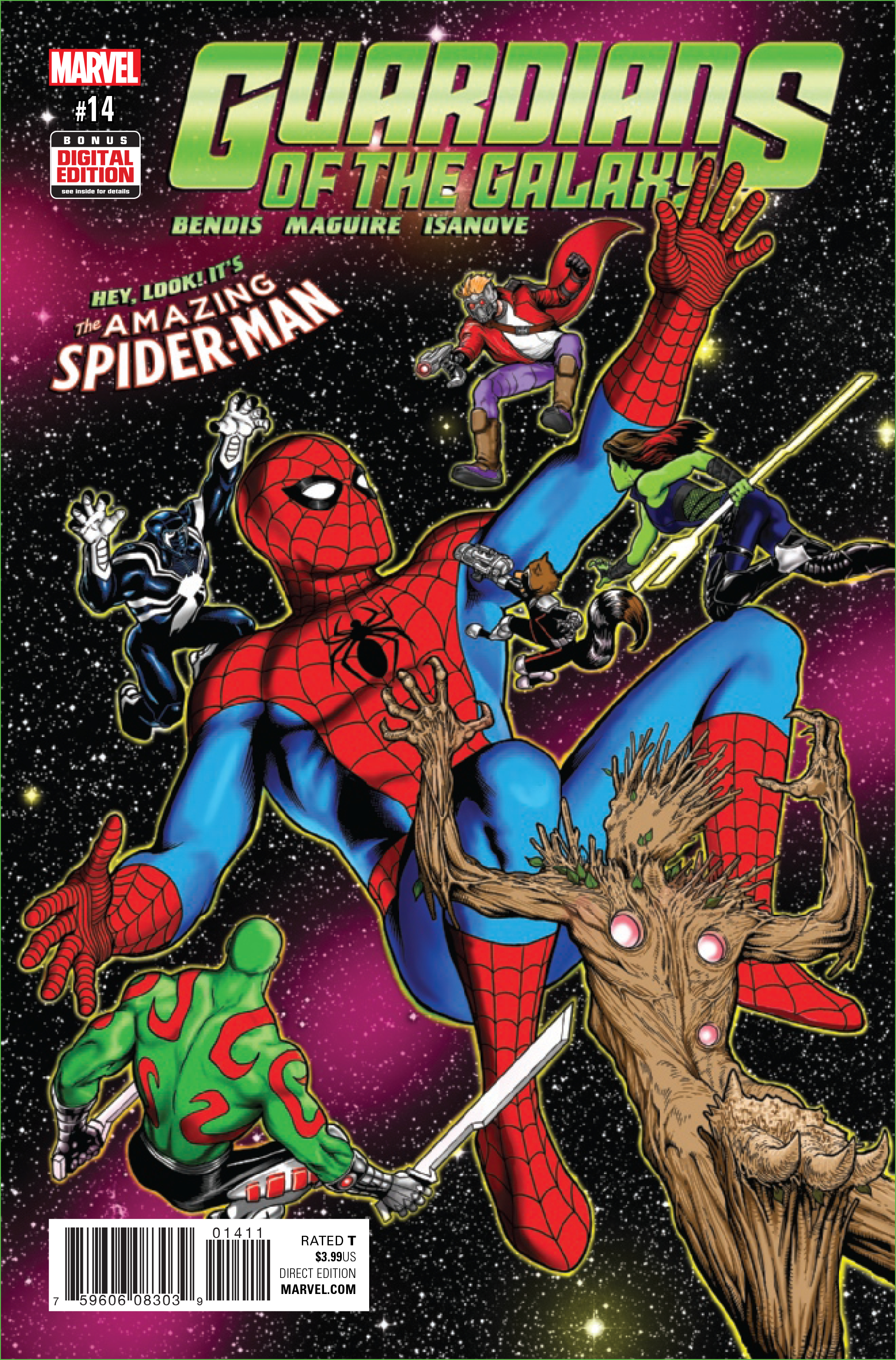 Guardians of the Galaxy #14> SPIDERS! IN! SPACE! A flashback from Flash Thompson's early days as a Guardian, co-starring SPIDER-MAN! Will VENOM endanger his new team to save his old friend?! Find out why Spidey's one of the reasons Rocket hates Earth! (S) Brian Michael Bendis (A/CA) Kevin Maguire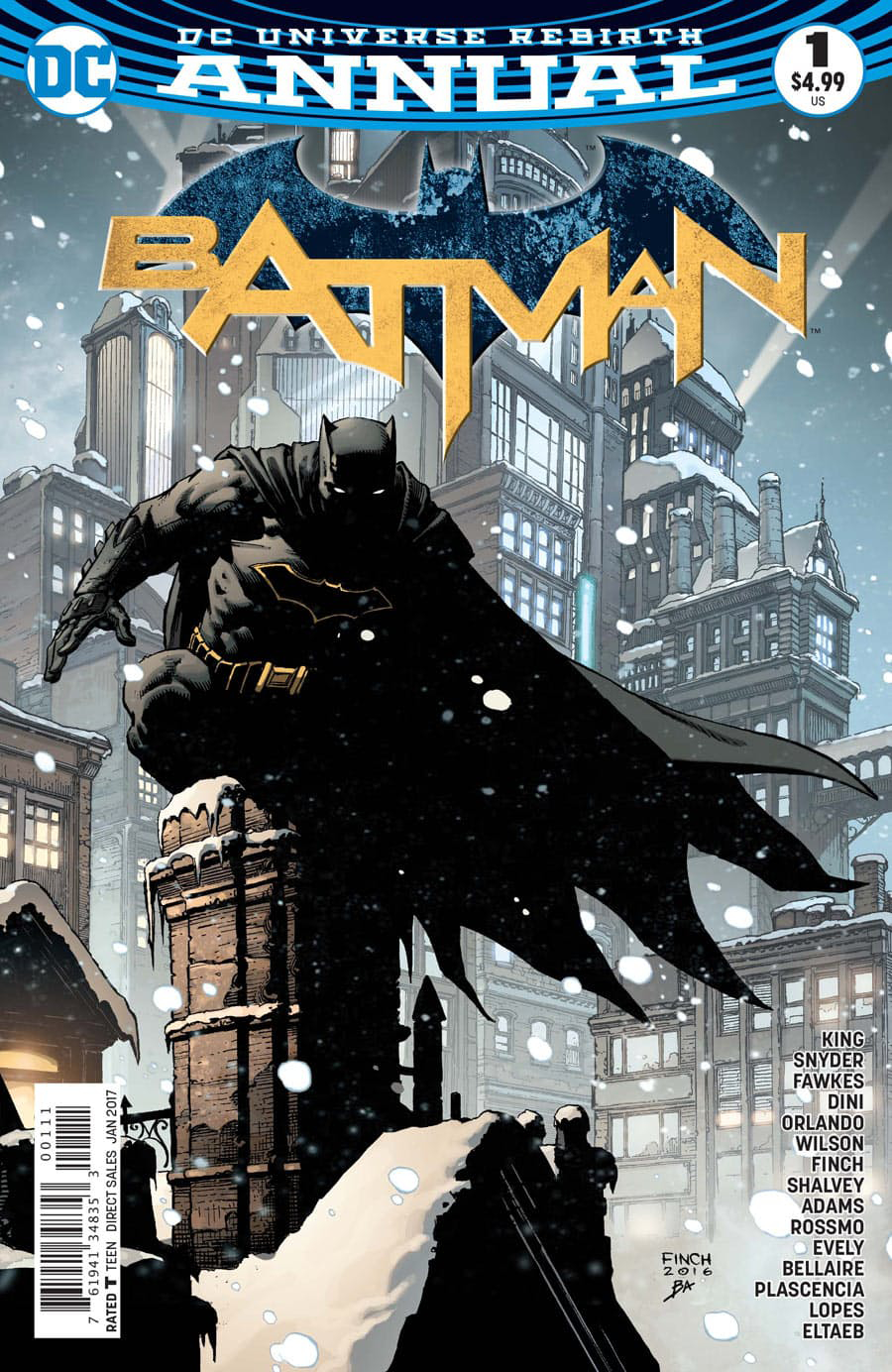 Batman Annual #1> "SILENT NIGHT"! A hush of winter snowfall has fallen over Gotham City…but a quiet night in this place is never truly quiet. Batman and his allies-and his many foes-stalk the streets in this icy showcase of top talent.
Tom King, Scott Snyder, Paul Dini, Steve Orlando, Scott Wilson (A) Riley Rossmo, Neal Adams (A/CA) David Finch
Smurfs Take> The Batman Annuals over the years never seem to disappoint and with this loaded bench I think that will hold true this year as well. They also end up hugely sought after if you miss it.
Smurfs Pick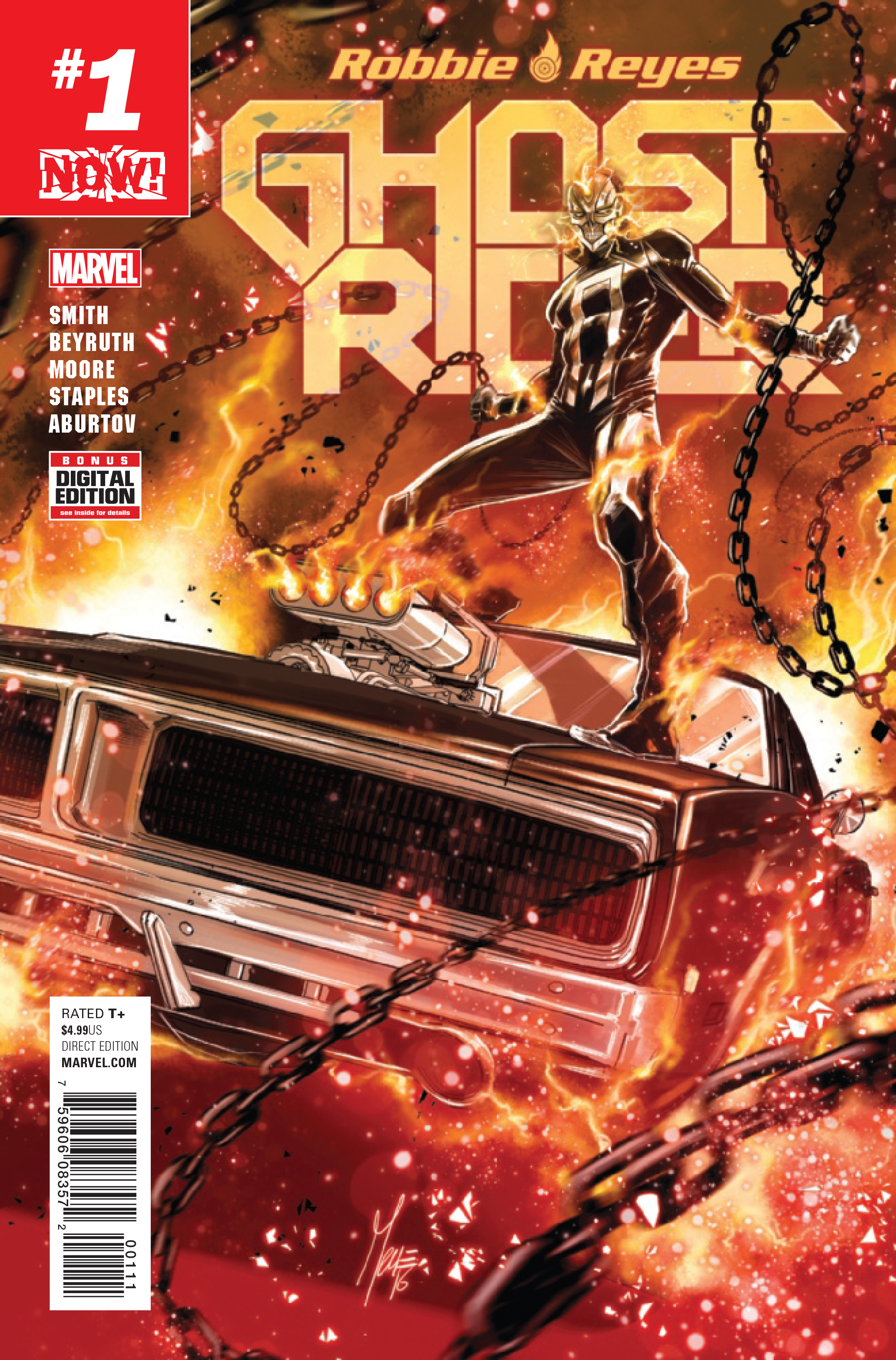 Ghost Rider #1> ROBBIE REYES IS BACK! It's hell on wheels as the Spirit of Vengeance makes his roaring return! A mysterious object from space crash-lands in southern California, drawing some of the brightest minds in the Marvel Universe to Ghost Rider's backyard – including Amadeus Cho, the Totally Awesome Hulk! What mayhem will be unleashed as the High-octane Hothead comes face-to-face with the Jade Genius? And with Robbie still possessed by the ghost of his evil uncle Eli…who's really in the driver's seat? Then, meet the newest speed trap in Ghost Rider's life as his original creators Felipe Smith and Tradd Moore reunite for a special backup story and the debut of an all-new villain. Strap in and start your engines, True Believer, this one's gonna be a scorcher! (S) Felipe Smith (A) Danillo Beyruth, Tradd Moore (CA) Marco Checchetto
Smurfs Take> Riding in on the new-found popularity thanks to Agents of S.H.I.E.L.D. I have high hopes for this series with the last one leaving a little to be desired. It may not be my favorite character sporting the flaming skull but just to have the Spirit of Vengeance back is a step in the right direction and maybe we will see a return of Johnny or Dan.
Trade Paperback of the Week Sensational She-Hulk By John Byrne TP Return> John Byrne makes his sensational return to the series he started, and She-Hulk's adventures as a super hero who knows she's in a comic book get wilder and more hilarious than ever! Shulkie will face problems high and low as her signature writer/penciler pits her against Spragg the Living Hill and sends her on a puntastic Jenny to the center of the Earth! But will she say "I do" to the Mole Man? She-Hulk will banter, body-swap, and battle tooth and nail as she tackles foes like the Black Talon and his Unliving X-Humed – and the Living Eraser, who may just wipe her out of comic-book continuity! But is She-Hulk's greatest nemesis Xemnu the Titan, or John Byrne himself?! Collecting SENSATIONAL SHE-HULK #31-46 and #48-50. (S) John Byrne, Howard Mackie, Michael Eury (A) Various (CA) John Byrne
Statue of the Week
Harley Quinn Red Black & White Holiday Statue> Designed by AMANDA CONNER Sculpted by PAUL HARDING It's a Harley holiday with this new statue of our favorite kooky criminal, Harley Quinn! Designed by her cowriter and artist Amanda Conner, Harley's in the spirit of the season with special gift-wrapping for her bomb and hammer.   Measures approximately 7″ tall
Smurfs Take> It wouldn't be Christmas without a Harley statue