Contenders for December 7, 2016
Unworthy Thor #2> The Realm of Old Asgard has vanished, taking with it Odinson's hope for redemption.But good tidings from Beta Ray Bill might breathe new life into the quest. For Bill knows the fate of the Realm Eternal. To win back Odinson's honor, the brothers in arms must infiltrate the fortress of THE COLLECTOR.
Jason Aaron (A/CA) Olivier Coipel
Smurfs Take> God it's good to have Thor back! And Beta Ray Bill, holy hell it is Christmas!
Black Science #26> NEW STORY ARC After years adrift in the chaotic Eververse, the McKay family finally reunites in their home dimension. But it's far from the happy end they expected. To save all there is and ever will be, the Dimensionauts need to cut deeper into the Onion than ever before! RICK REMENDER & MATTEO SCALERA present the sixth chapter of the runaway pulp sci-fismash hit BLACK SCIENCE! (S) Rick Remender (A) Matteno Dinisio
Walking Dead #161> "THE WHISPERER WAR," Part Five (S) Robert Kirkman (A) Charlie Adlard
Smurfs Take> The war has been bad ass and I haven't been this excited about the story for some time. So many things in the mix and guessing who is going to die next; could we see another major character fall?
Justice League #10> "OUTBREAK" part three! The identity of the Justice League's mysterious new villain is revealed as the League uncovers a shocking connection to the Kindred invasion. This mysterious new foe ups the ante by releasing dozens of the team's enemies from prisons around the world! (S) Bryan Hitch (A) Neil Edwards, Daniel Henriques (CA) Fernando Pasarin, Matt Ryan
Nightwing #10> "BLUDHAVEN" part one! Following "Night of the Monster Men" and his battle with Raptor, Nightwing heads to Blüdhaven for a fresh start. But that doesn't last long when he runs into a crew of former Bat-villains! (S) Tim Seeley (A/CA) Marcus To
Smurfs Pick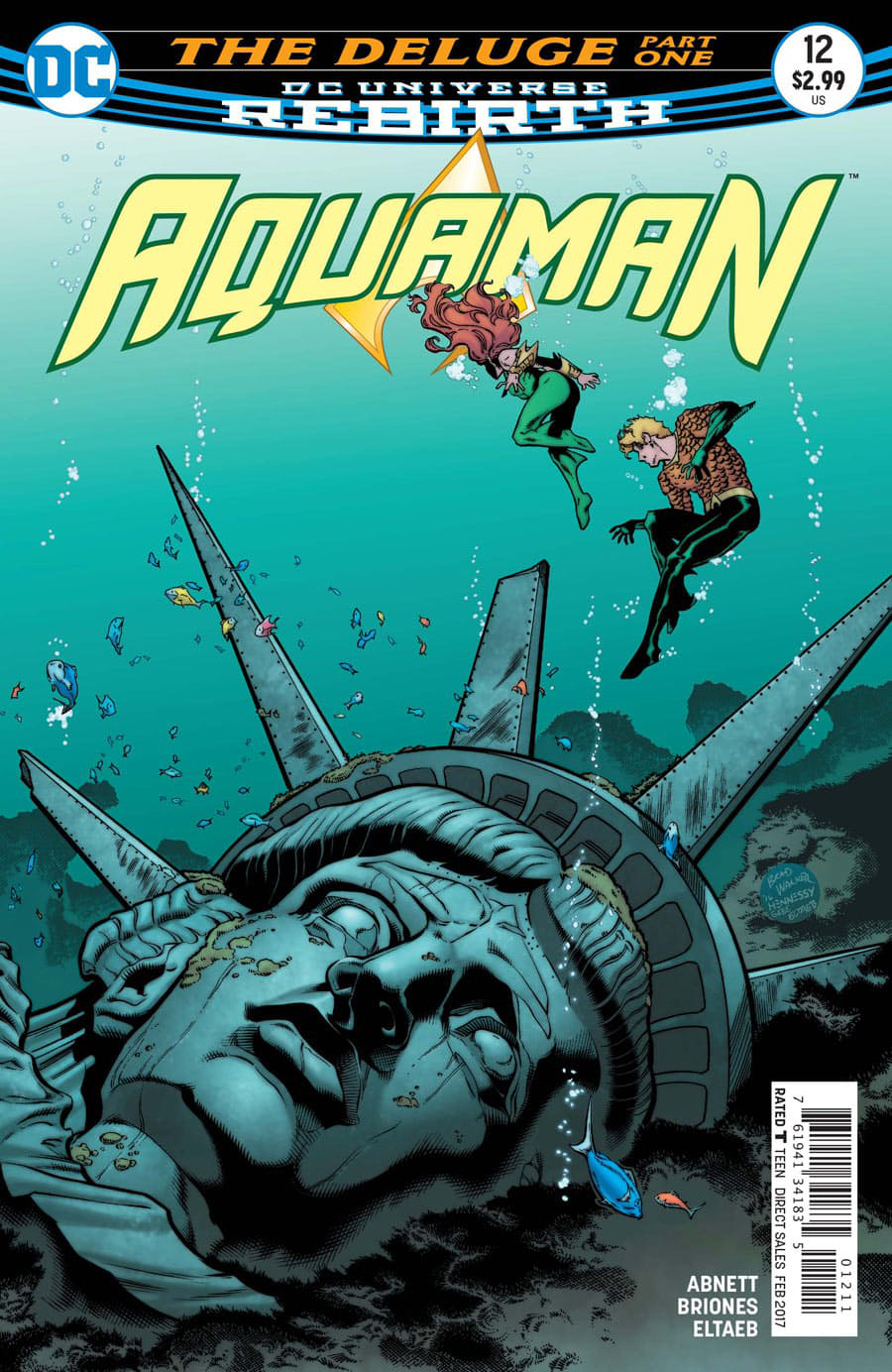 Aquaman #12> "THE DELUGE" part one! It's war! With the undersea army of N.E.M.O. at his command, Black Manta draws the U.S. and Atlantis into the war Aquaman has been fighting to prevent. Now the sea king races to uncover proof of N.E.M.O.'s deception before the two nations destroy each other. (S) Dan Abnett (A) Philippe Briones (CA) Brad Walker, Andrew Hennessy
Smurfs Take> At last Black Manta is going to do something major and cause some serious damage. The most under used villains gets his due!
Trade Paperback of the Week
Doctor Strange Way of the Weird Vol 1 TP> Only Doctor Strange can protect our world from the darkness beyond – now, witness the full toll that constant struggle takes on Earth's Sorcerer Supreme! Every spell cast comes at a cost, but what happens when Strange falls behind on his tab? Find out as the good doctor wakes up somewhere very odd, nearly naked – with no spell books, no weapons and no memory of how he got there…or why all the monsters are chasing him! And as a new visitor to Strange's Sanctum Sanctorum learns one wrong door can lead to oblivion, a magic circle of Strange's friends and allies are about to face their greatest threat. Dark forces are destroying everything mystical in the multiverse, and their sights are set on this dimension. Magic's days are numbered, and Doctor Strange is not ready! COLLECTING: DOCTOR STRANGE 1-5
Statue of the Week
Harley Quinn Red White & Black Statue> Designed by ANT LUCIA  Sculpted by TIM MILLER It's a new vision of DC's red-hot villain, Harley Quinn, as DC Collectibles unveils the first HARLEY QUINN: RED, WHITE AND BLACK STATUE! Get in at the start of this new statue series!  Measures Approximately 6.75″ Tall
Video of the Week
The Secret Life of Pets> Max is a dog who lives a happy life with his owner in a Manhattan apartment complex. Max has made friends with all of the pets in the building, and he even has friends in the building across the street. Max's owner disrupts life by bringing home the sloppy and inconsiderate dog, Duke. Max and Duke do not get along, but they have to put all of that behind them when they find out that an abandoned bunny pet is gathering all of the other pets together to take revenge on the pets with homes. Seems like kitty does a lot more than sleep when you are at work all day.