#Newcomics Contenders for December 28, 2016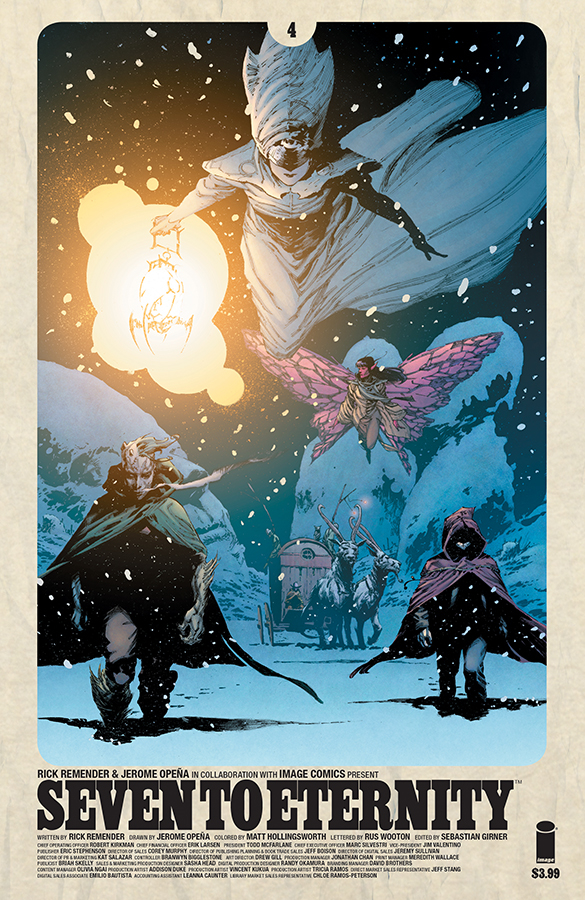 Seven to Eternity #4> With the lives of their loved ones on the line, can the last of the Mosak decline the Mud King's offer to save them? (S) Rick Remender (A/CA) Jerome Opena
Smurfs Take> This is way too good of a story to wait for the trade. It is epic!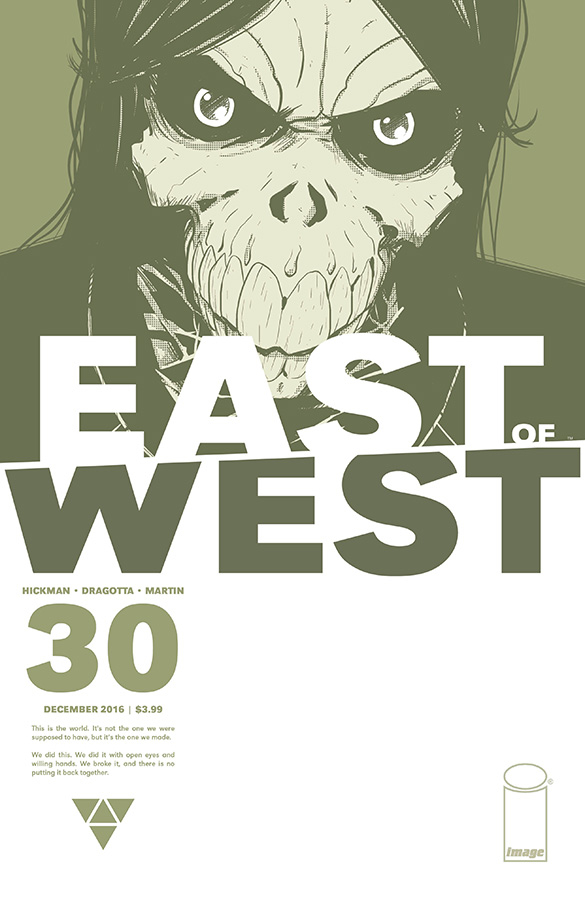 East of West #30> NEW STORY ARC The final year of the apocalypse begins! Armies rage! Nations at War! A family fights to be reunited. (S) Jonathan Hickman (A/CA) Nick Dragotta
Smurfs Take> Thank God it's finally back, took their time. Where are, we going this time? Can't wait to find out what Hickman has in store for us!
Shutter 25> SPECIAL TWENTY-FIFTH ANNIVERSARY BRUNCH-RELATED CROSSOVER EVENT! A story twenty-five issues in the making! Kate Kristopher comes face-to-face with the force behind every single moment in SHUTTER thus far for a showdown unlike any other, including: the creation of the universe! The end of the universe! An explanation for all existence threatens to wipe out everything that ever was and only Kate can stop it! But why doesn't she want to? PLUS: A brunch twenty-five years in the making! Kick off 2017's Image Comics' 25th anniversary as founding heroes including (but not limited to!) SAVAGE DRAGON, WITCHBLADE, GLORY, and SHADOWHAWK unite with INVINCIBLE and the cast of SHUTTER for what may prove to be the most delicious crossover event of all time! Don't you dare miss the terrifying biscuits-and-gravy secret no one will see coming! (S) Joe Keatinge (A) Leila Del Duca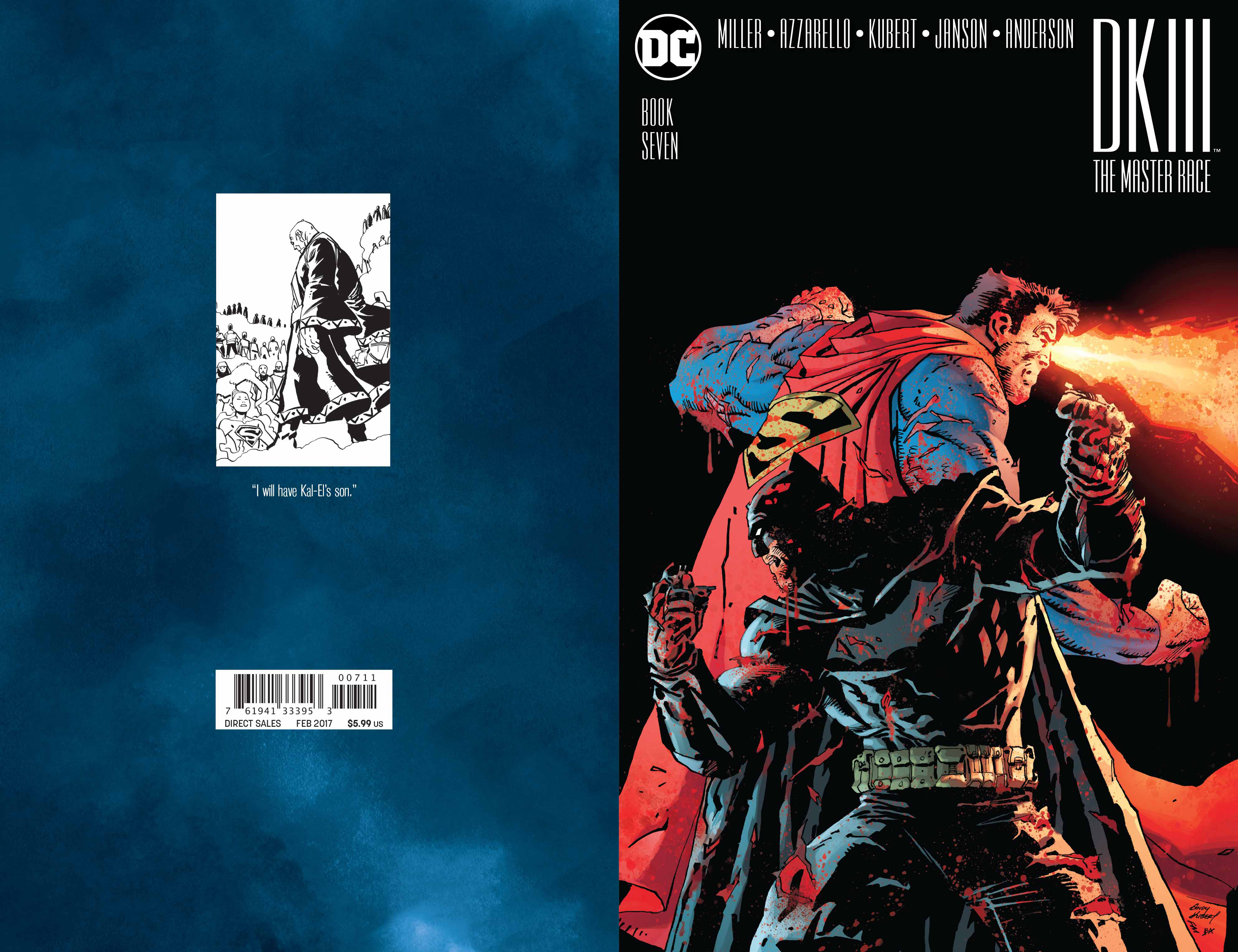 Dark Knight III Master Race #7> Batman and Superman are back together again-but is their reunion too late? (S) Frank Miller, Brian Azzarello (A) Klaus Janson, Frank Miller (A/CA) Andy Kubert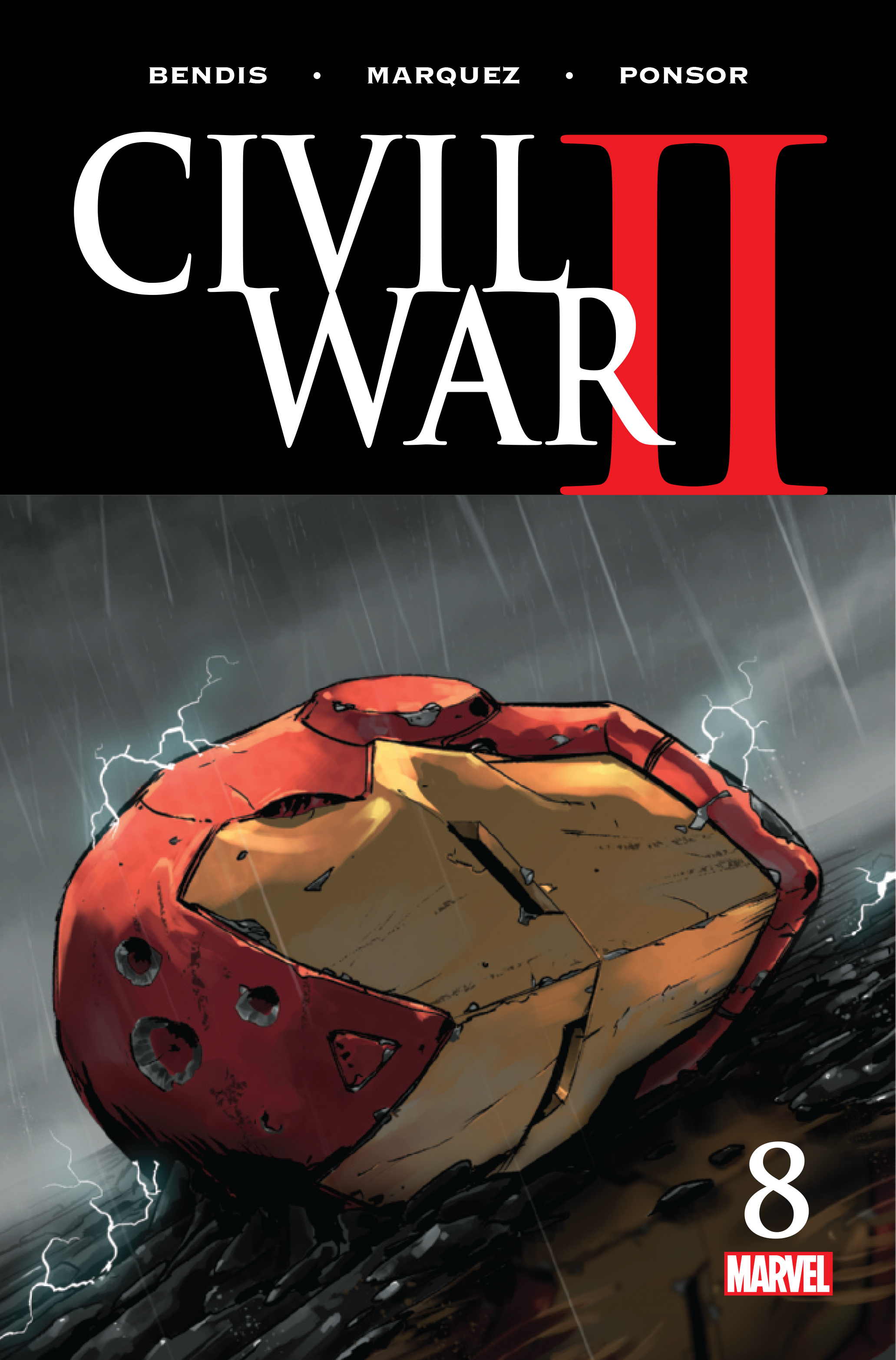 Civil War II #8> Blockbuster creators BRIAN MICHAEL BENDIS and DAVID MARQUEZ go out with a seismic bang as fists fly over Washington D.C.! Ulysses' precognitive powers grow stronger with each passing moment. As they reach their peak, what horrors from the future will be unleashed? And seeds sown here will bear bitter fruit for the Marvel Universe of tomorrow. Protect the future or change the future? It all gets decided here! (S) Brian Michael Bendis (A) Various (CA) TBD
Smurfs Take> This is it, what has seemed forever to get here; the final issue! The question is will it end like every Marvel series; Lack luster and fizzled? Will there be major consequence with the death of a hero? Guess that's two questions.  
Smurfs Pick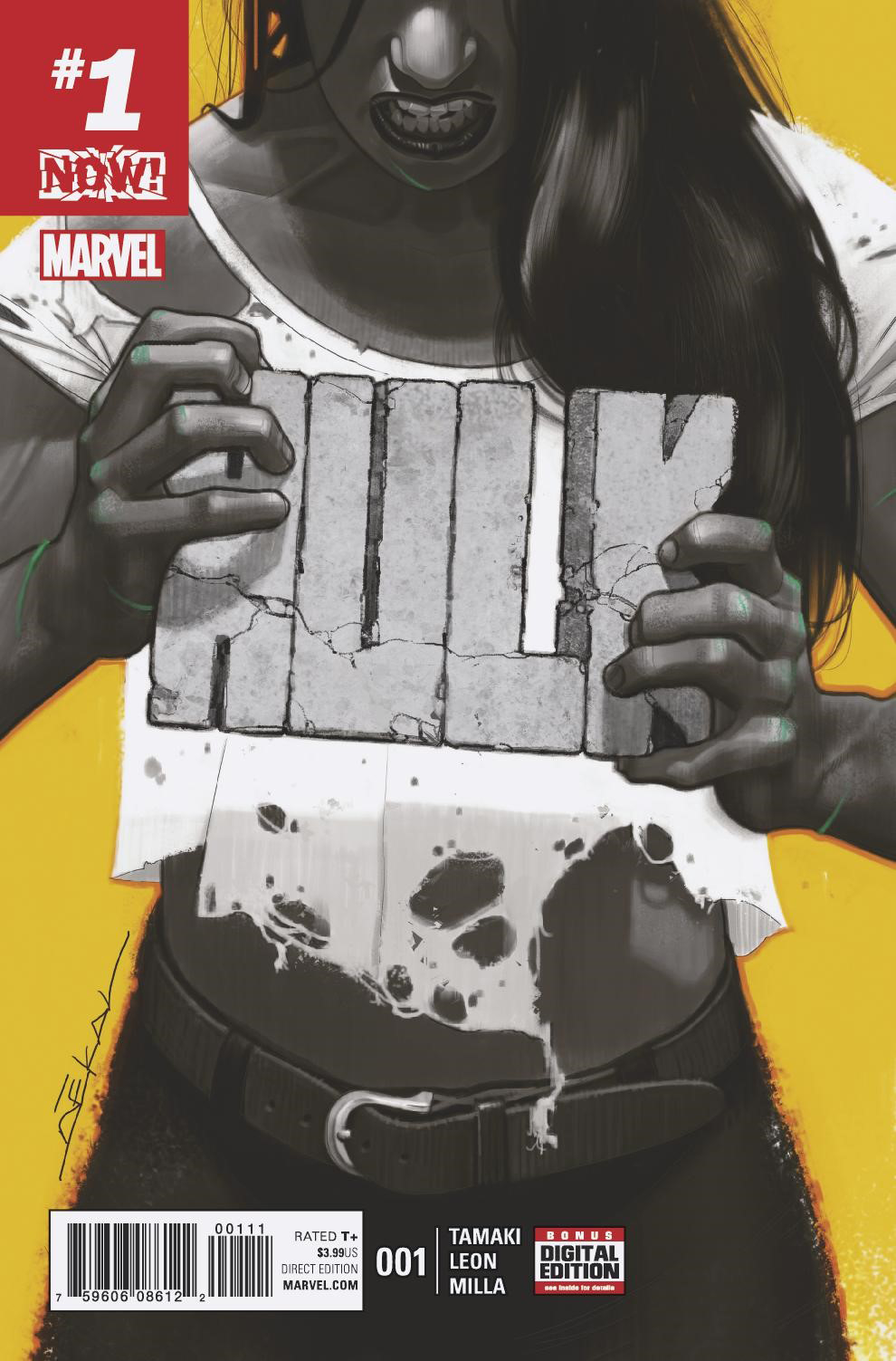 Hulk #1> JENNIFER WALTERS has survived the Civil War…barely…and having risen from the rubble, she re-enters the world a different kind of hero. Fueled by a quiet rage, she is determined to move forward, to go on with her life, but the pain of the past and all she's lost is always there – an undercurrent, a pulse, waiting to quicken and trigger Jen's transformation into the one thing she doesn't have control over… (S) Mariko Tamaki (A) Nico Leon (CA) Jeff Dekal
Smurfs Take> One of the most underused female characters in the Marvel Universe and should also be one getting her own movie. With Bruce gone now and my loathing of the current Hulk I can only hope this will save the family name.
Trade Paperback of the Week 52 TP volume 2> The story of the DC Universe's most eventful year concludes in this final action-packed volume in the series featuring an epic war between the planet's super-powered beings. Discover the final fates of the stars of the series 52 #27-52!
Figure of the Week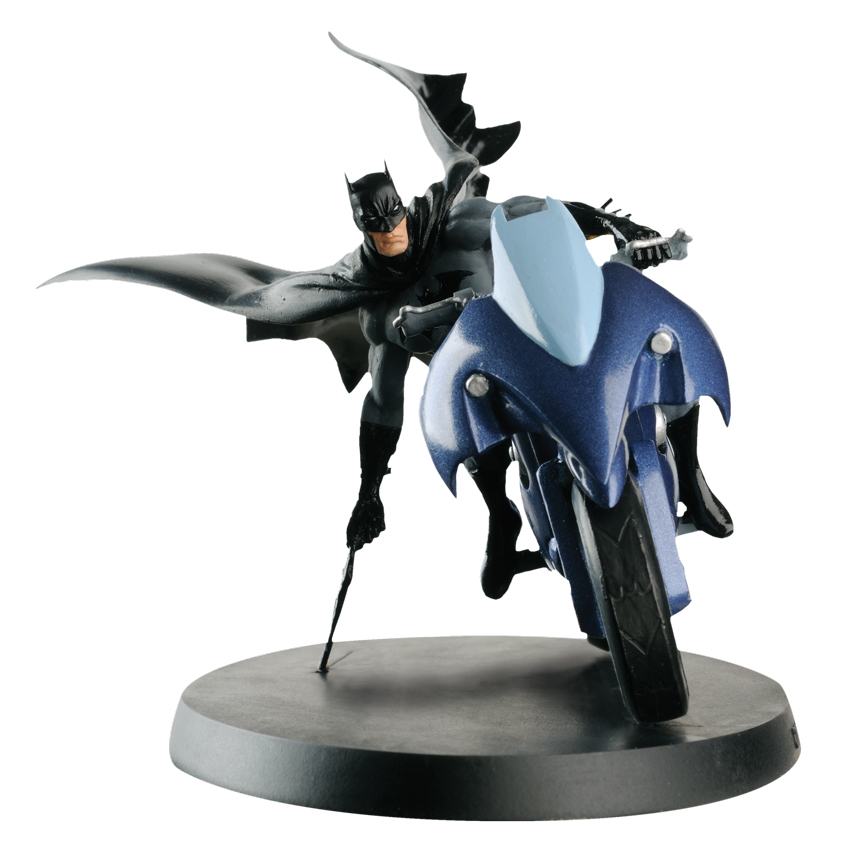 DC Superhero Best of Figure Mag Special #1> Batman Batcycle As part of the DC Super Hero Collection relaunch Eaglemoss are happy to offer collectors the Batman and the Batcycle Special. This highly detailed 1:21 scale figurine is cast in metallic polyresin, and comes in new packaging with an updated 16-page magazine.